Smilies, Anniversary, Safety Award & more...
Welcome to the Multitech June 2017 news.
The recent glorious (albeit short lived) UK weather brought a smile to many faces – perhaps we'll see a long hot summer? ☺ Did you know that the much used Smiley icon is celebrating its 47th year? The Spain Brothers in Philadelphia created the design to sell novelties, adding the wording 'have a nice day' and then promptly sold approximately 52m Smiley badges! Bet that bought an ironic smile to their faces!
With anniversaries in mind, we are happy to report that Multitech will be celebrating its 19th year on 9th July. Thank you to everyone who has helped, supported and contributed in some way to the business' success throughout the years. We are looking forward to our 20th Anniversary celebrations next year.
We have been pleasantly surprised, in the wake of recent political turmoil, that the construction industry has remained resilient. Multitech has continued to see enquiries increase, including projects for new clients in Liverpool and Leeds which are being looked after by our Midlands Office.
Safety Award from Paragon
Two of our electricians have received a safety award from leading Interior fit out and refurbishment contractor Paragon. Luke and Sam won the award for safely working at height at Minster Court in London when operating the atrium rotating access ladder. When asked about the experience, Luke replied: "In my profession I'll work hard, but I'll never stop, I'll climb this blinkin' ladder, till I get right to the top...when I'm cleaning windows!" We then relieved him of his ukulele and sent him on his way.
Well done lads – you've literally reached the dizzy heights of temporary power!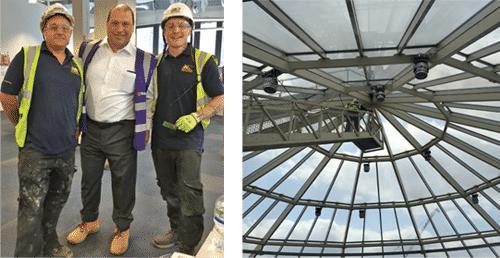 Charity
Multitech entered a team into the first St. Clare Hospice Corporate 5-a-side tournament at Harlow Football Club Arena on 29th June. We also have members of staff participating in the Kier Annual Endurance Karting Event at Buckmore Park in aid of the Teenage Cancer Trust at the beginning of July.
We'll let you know the outcomes of the events in next month's news.
And BIG congratulations to our team of ladies (below) who successfully completed the Cancer Research UK Pretty Muddy 5K event on 10th June and raised £2000! An outstanding achievement, well done ladies.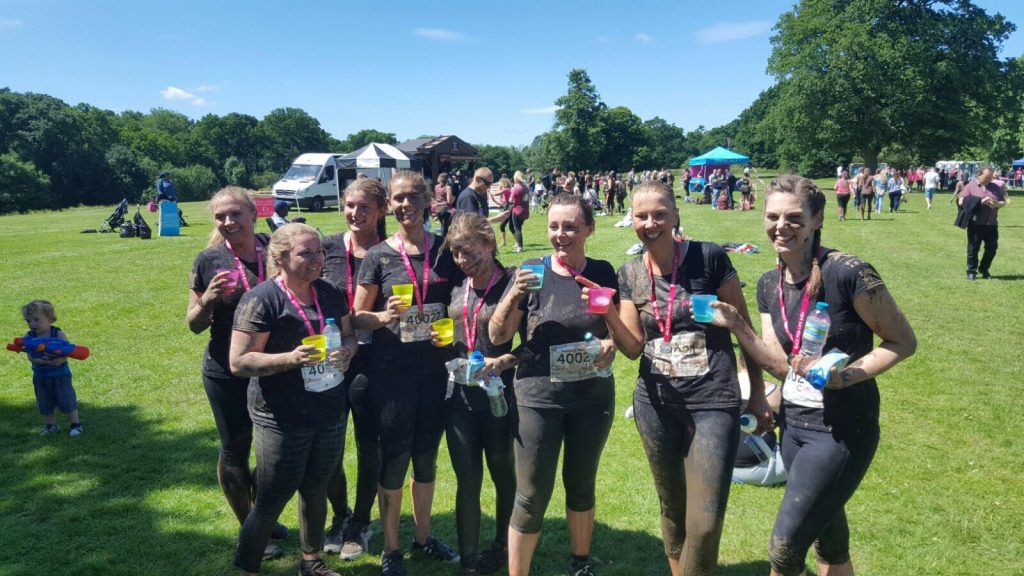 People
In hope of the sunny weather returning, a staff barbecue has been arranged for 28th July and a big turnout is expected. Entitled 'Multi-Fest' live music will accompany the frivolities.
So, with charity events, social gatherings and school holidays to look forward to, and hoping that political stability will (perhaps) return to the UK for a while we wish you a great month ahead.
See you in July!