Becoming an Electrician at Multitech Site Services
Becoming an electrician may be easier than you think when you become a trainee with Multitech Site Services.
And if you thought the only way of becoming an electrician requires a costly course, university studies or student debt, we're happy to tell you we can offer you another way!
If you have two to three years work experience (not necessarily electrical), love the idea of becoming an electrician and getting paid whilst you learn click the button below and we will contact you to discuss further.
---
Register Your Interest – Click Here
---
On our trainee programme you will learn essential electrical skills whilst gaining on-the-job experience, givin you an opportunity to enjoy a long-term career as a temporary services electrician.
We usually have training start dates in January, June and September. However, if you already have experience and love the idea of becoming an electrician we may be able to employ you before the next scheduled intake date.
Once you have completed your training you'll go straight into a full-time job with Multitech; independence, responsibility and a long-term career await you!

All these guys became electricians with Multitech – would you like to join them?
Depending on where you live, your training will begin either at our Essex or Midlands office. You will learn electrical knowledge and skills including servicing and maintenance of specialist temporary electrics equipment (also known as 'plant'). Most importantly you will be taught about general electrical health and safety.
Our electrical training programmes are full-time and involve practical and (if required), classroom training. You will achieve globally recognised JIB/ECS cards and your final year will be spent on-site (construction sites) with training being delivered by an assigned mentor – a qualified, experienced Multitech electrician.
If you don't already possess one, you can use your training to work towards an NVQ (National Vocational Qualification).
Your training will teach you:
How to install, maintain and repair a wide range of electrical services
All about our specialist, sophisticated, systems and equipment
Technical knowledge and practical skills
Inspection and testing of electrical installations
Diagnosis and rectifying of faults on our range of specialist equipment
How to be organised and work under your own initiative
Health and Safety
Different types of electrical systems including alarms
Basic plumbing skills
What you will need:
To want a career as an electrician
Be enthusiastic, motivated and hard working
Be physically fit and happy working outside on construction sites
Have a full driving license and own transport
Live within a reasonable commute of Great Dunmow in Essex or Wellingborough in Northamptonshire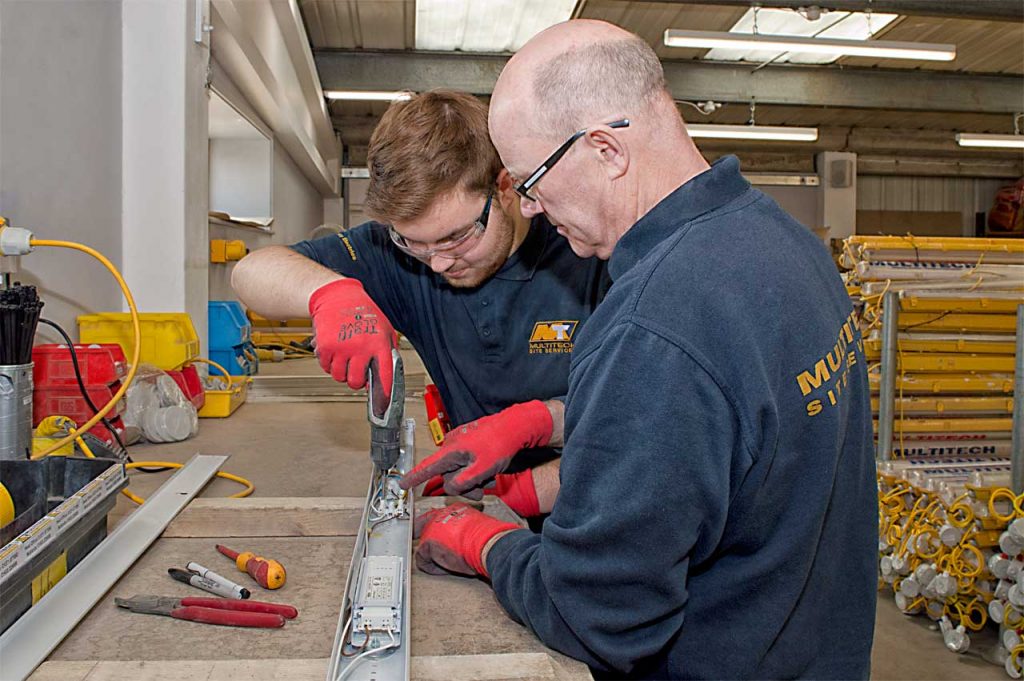 Once you have successfully completed your training programme you will be assigned to projects geographically best suited to where you live.
It is important to remember before registering your interest in a Multitech electrical training programme that the work will be physically demanding, involve heavy lifting and require working in all weather conditions on construction sites.
Multitech electrical trainees need to have a positive and respectful approach to clients and colleagues whatever the weather!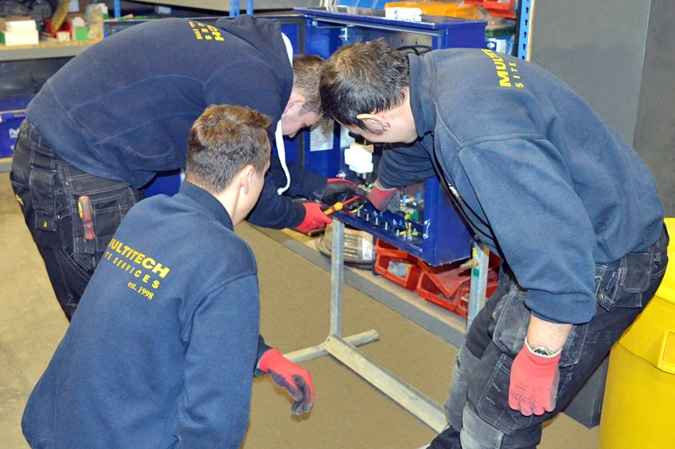 Walk straight into a job with benefits
Successfully complete your training with Multitech and there'll be a job waiting for you at the end of it! In addition to gaining knowledge and learning electrical skills, you can also look forward to:
A full-time, PAYE job
An above industry-standard salary
Potential for career progression
23 days annual leave plus public holidays
Private medical and dental insurance after probation
Pension and childcare vouchers
Life insurance after 1 years' continuous service
---
Register Your Interest – Click Here
---
What are 'Temporary' Electrics?
Multitech Site Services is the UK's leading provider of 'Temporary Electrics'. Before the likes of Canary Wharf or the Shard decorated the London skyline, before schools and hospitals are opened, they were just construction sites. And before construction could start, electricity supplies needed to be in place to enable machinery such as cranes and power tools to operate.
But this is no 'ordinary' electricity supply…this one gets taken away again (thus it's "temporary")!
Cables, generators, sub-stations, lighting, alarm systems and plumbing must all be installed for construction to start but is all later removed when permanent mains services are connected. Fantastic architectural structures throughout the UK were made possible by having a reliable 'temporary' electrics provider such as Multitech.
You could be one of the skilled electricians that make this possible; our electricians have been doing so since 1998!
Why choose a Multitech electrical training programme?
On completion you will be able to embark on a varied and interesting career. Multitech has successfully run electrical training programmes since inception in 1998 and has steadily grown to become a multi-million pound company, permanently employing over 100 full-time electricians.
Our Clients and the type of projects you could be working on:
(Click to view)…
Past Electrical Trainee Testimonials:
"I never knew being an industrial electrician could be so much fun. The training was excellent and I couldn't wait to get out on site as a qualified electrician. Now, I'm working on building sites on big projects alongside the guys that trained me. I love the work and know that I have a long-term career with Multitech."
Lewis W.
Electrician
"I started with Multitech as a trainee and now, many years later, am a Senior Engineer with responsibility for my own trainees. I can't recommend Multitech training programmes highly enough – if you have the opportunity to take one, do it!"
Dave W.
Senior Engineer
"I couldn't believe my luck when I was offered the opportunity of an electrical trainee position with Multitech. That was many years ago now and since completing my training, I have progressed within the business and am now a Contracts Manager, looking after my own trainees."
Paul W.
Contracts Manager
---
Register Your Interest – Click Here
---