One month into 2015 and our world of temporary electrics continues to gather momentum with new enquiries coming in on a daily basis. With such a positive start to 2015, we are looking forward to an excellent year ahead. We are pleased to announce that we will be expanding into additional adjacent facilities in Essex, the purchase of which completed in early January.
The expansion will give us significantly more warehouse space, virtually doubling the amount of specialist equipment we can store, and enabling us to provide temporary electrics services for a greater number of projects.
We have invested heavily in additional lighting and plant, all branded with Multitech colours and have added twenty new modified vehicles to our fleet, all of which are already being kept very busy.
People
We successfully recruited new staff throughout December and into January and the recruitment continues as we look for qualified electricians to join teams across all regions. Our policy of directly employing all staff means we can provide comprehensive training, ongoing development and long-term prospects.
If you are an electrician, and/or someone who is looking for a career, there may be opportunities for you at Multitech. To find out more visit our careers page or alternatively you are welcome to email your CV to kimberley@multitechsite.co.uk so that we can see if there are any vacancies are suitable for you.
Safety
It was a pleasure to see our electricians and trainees gather for the fifth Multitech Annual Safety Conference at the beginning of January. The conference was hailed a great success by all attendees who were enthralled in the thought provoking presentation given by guest safety speaker, Ken Woodward OBE.
Ken Woodward was working at Coca Cola when a preventable accident happened, an accident which could have claimed Ken's life but for the quick thinking of his colleagues. Instead it cost him his eyes, sense of smell and sense of taste. The accident happened in 1990 and since then Ken has dedicated his life to the safety of others. In one year he took one-hundred-and-twelve flights, nineteen overseas trips and gave two-hundred-and-eighty-five presentations with the aim of preventing others from injury at work. Ken teaches that our safety, and the safety of those around us is our own responsibility.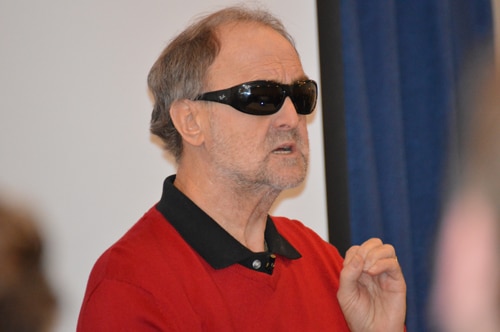 Guest Safety Speaker Ken Woodward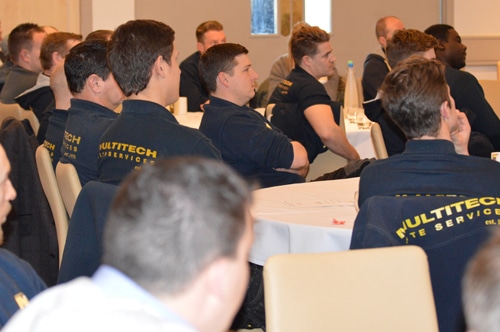 Multitech electricians captivated by Ken Woodward's presentation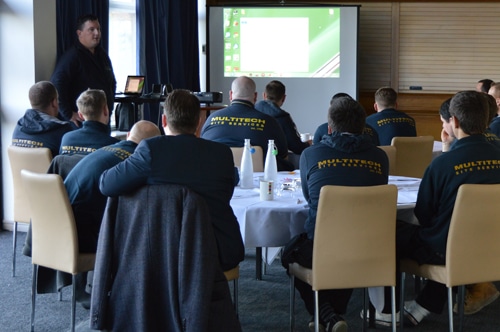 The Safety Conference also featured updated UKATA Asbestos training, the distribution of new PPE and thorough van and tool inspections.
The Year Ahead
At time of writing, the BCC has reported that New York and Boston have been shut down by Winter Storm Juno with expectation of up to 30 inches of snow. Being typically British, one can't help but wonder if the UK might see similar in the coming weeks...the South East has so far escaped the snow (although our Midlands electricians have endured snow and freezing temperatures to keep projects running, often with numb extremities!)
Whatever the weather, on behalf of everyone at Multitech, we wish you a Happy, Healthy and Prosperous 2015. Now February, what have you got for us?..