Multitech Site Services 19th Year, Thanks...and Brexit:
For Multitech Site Services, the beginning of November represents our 19th financial year. Since inception in 1998 we have focused on becoming the construction and development industry's leading temporary site services specialist contractor. As we move into a new, exciting financial year we are fortunate to look back on a period which saw continued, steady growth with turnover for 2015/16 looking to be around £11 Million.
One of the biggest changes in the past 18 years was of course Brexit. Amidst all of the speculation, we saw no slow down. The steadily increasing flow of enquiries combined with the 400 plus ongoing projects for which we are supply temporary electrics, temporary lighting and temporary plumbing provides air of optimism for the year ahead. Of course, at time of writing, the High Court has decided that MPs are required to give the go ahead for Article 50; one can't help but wonder whether Brexit will indeed become a reality and if so, when.
Multitech Site Services Managing Director, Guy Scilly, who this time last year was cycling across Cuba for charity, wanted to convey a personal message to our readers:
"The past year has been a great success for Multitech Site Services and special thanks go to all our clients, not least of all those with whom we work on a regular basis. We really value our professional relationships and believe they should be reciprocal in nature, mutually supporting each other throughout multiple projects. We often receive positive feedback and want our clients to know that we appreciate your business and will continue to provide our support wherever possible."
People
Successful recruitment campaigns have resulted in new starters in all regions who are now being trained in preparation for independently embarking on their careers with us.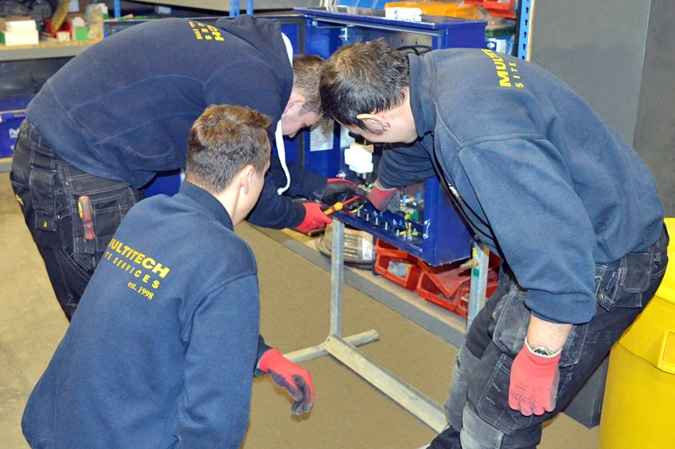 Full-time vacancies remain although we are currently interviewing for many of them. Positions are available at our Head Office in Essex, our Midlands Office and on site. To see our current vacancies please visit our Careers page.
Charity
Staff organised charity events throughout October, participating in the World's Biggest Coffee Morning for MacMillan and Wear it Pink for Cancer Research. Activities involved a 'Great Multitech Bake Off' and a variety of other fun activities. In addition, the staff charity tuck shop at head office also contributed to the hundreds of pounds raised which was match-funded by Multitech Site Services.
Special mention goes to Georgie Ardley who successfully completed a 26 Mile Walk to raise money for Parkinson's UK. You can still sponsor Georgie by visiting :
www.justgiving.com/Georgie-Ardley2
A big shout out to another successful Essex business; Alloy Fabweld Ltd, another Great Dunmow based business enjoying great success within the construction industry. Their MD Shaun Pledger recently travelled to South Africa as part of the Team South Africa Project with The Footprints Foundation. Shaun assisted in the building of an extension on a children's orphanage and on their Facebook page stated:
"I never understood anything until today, I have seen a side of society we would not normally identify, understand or see in our lifetime. Poverty is everywhere, but happiness abounds – they literally have nothing."
Everything is supported by fundraising and donation only. Donations can be made at:
www.justgiving.com/fundraising/ShaunPledgerProjectSA2016
Absolutely outstanding contribution Shaun!
So with charred pumpkins now 'adorning' many doorsteps, school children counting the weeks until their next school holiday and with misty mornings and shorter days upon us we wish you a successful and productive November.