Careers, Apprenticeships and Spare a Thought this Christmas:
What a year it has been for Multitech; month-on-month growth is showing no signs of slowing as we rapidly head towards Christmas, quite the contrary in fact. New enquiries continue to flood in and existing projects require aspects completing before Christmas.
One of the privileges of being a successful specialist temporary site services contractor, is that we are able to run apprenticeship programmes and create new, skilled electricians fully equipped for a successful career in construction. Our industry leading position also provides us with opportunity to offer full-time, PAYE career positions for experienced electricians, plumbers and office support staff.
As you read this, our HR Team are reviewing applications and CVs from experienced JIB electricians for jobs throughout Essex, London, the South East and Midlands. We will be continuing to recruit throughout December ready for the New Year – to see current vacancies please visit our careers page.
Electrical Apprenticeship Opportunity
In addition to vacancies for experienced JIB graded electricians, we also have a great opportunity for an electrical apprentice to start in January 2017 to be based in Great Dunmow in Essex. The apprenticeship description can be seen here but for your ease of reference, we are looking for someone who fulfils the following:
Looking for a career as an electrician
Enthusiastic, motivated and hard working
Ready to start January 2017
A full driving license and own transport
Live within a reasonable commute of Great Dunmow in Essex
Closing date for applications: Friday 9th December 2016
If you would like to apply, or know someone who would like a career as a commercial electrician, call Multitech Site Services on 01371 877079 or email recruitment@multitechsite.co.uk stating the role you are applying for and attaching your CV if you have one available.
Charity
Staff organised charity events throughout November in particular a Children in Need Dress Down day which involved various fund raising activities. In addition, the Head Office 'Charity Tuck Shop' continues to raise significant funds which will be match-funded by Multitech before being donated to our chosen charities for 2016.
Members of the Multitech Contracts and Estimating Teams were in attendance at the Manor of Groves Hotel near Sawbridgeworth supporting the President's Sporting Club & The Essex Disabled Sports Foundation of which Frank Bruno is the President.
Managing Director Guy Scilly, keen boxer turned trainer, was also working the corner for young fighter Sam Radley who he coached in preparation for a fight at York Hall Arena. We're pleased to report that Sam put his rather large opponent down in the first round and went on to convincingly win his bout!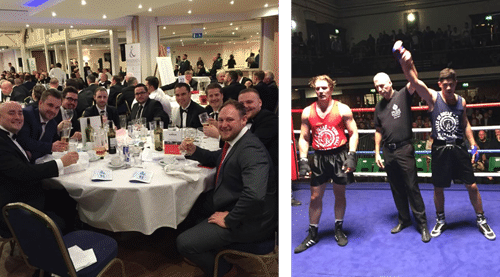 Multitech Christmas Shutdown
Our offices will be closed from Saturday 24th December to Monday 2nd January 2017. Should you require any special arrangements or attendance during the festive period please contact the relevant Multitech office contact to discuss.
Our offices will re-open on Tuesday 3rd January 2017; our site based staff will on this day be attending the annual Multitech Staff Safety Conference & Training Day.
Spare a Thought...
Before we all get wrapped up (pun intended) in Christmas, whilst it's  nice to report successes, we'd also like to encourage you to spare a thought...no, not just spare a thought...take some positive action...to help those less fortunate this, and every Christmas.
Whilst many of us stand in warm, heated homes commenting that it's going to be cold this evening, there are many that are instead trying to find any form of warmth and comfort they can.
Each year we support local Christmas Shoe box Appeals; you'll be able to find one near you and we hope you do. Massive effect for little effort. There are plenty of other ways to help others this Christmas. Here are some links to inspire:
Wishing you a great few weeks ahead.