Temporary Electrics, Carbon Dioxide-Capturing Bricks & More:
Welcome to the first Multitech Site Services Temporary Electrics Blog of 2017! Christmas and New Year now seem like a distant memory, but nonetheless we hope yours was all good.
January was an excellent month for Multitech, with a continuation of regular enquiries for temporary electrics, especially in London where existing construction projects are rapidly progressing.
New enquiries from the Birmingham area have been keeping our Wellingborough office extremely busy. In 2011 we identified the need for a Midlands regional office to look after enquiries for temporary electrics and temporary site services.
Outside of London, as reported by Construction Enquirer, construction hit record levels in 2016 with Birmingham among the cities seeing a 50% increase in office space builds and a ten-fold increase in residential developments compared to 2015...that'll explain why our Midlands team were so looking forward to their Christmas break!
Multitech Midlands Office Goes from Strength to Strength
The Multitech Midlands Regional Manager leads a team of engineers and electricians. Located East of Birmingham, the Wellingborough office expanded with a new warehouse in 2016 in order to accommodate the increase of enquiries for temporary site services, in particular temporary site lighting and temporary electrics.
If you have construction or development projects in Birmingham or the Midlands that require temporary electrics we invite you to contact our Wellingborough office directly on 01933 226 889.
Safety
Our annual Safety Conference and Training Day took place on 3rd January and saw our site workforce responsible for temporary electrics and temporary site services installations gather for an informative and educational day.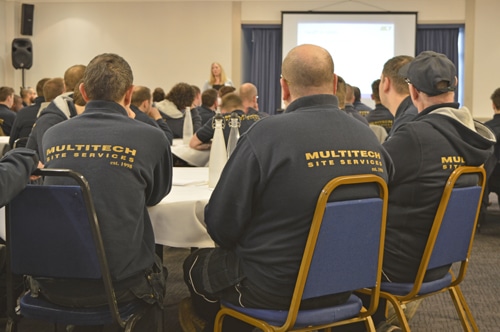 The 2017 Guest speaker was Health and Safety expert Andy Haith whose consultancy Hawksafe also ran Manual Handling and Asbestos Training on the day. The Director's Address and Summary of 2016 was this year was given by Managing Director Guy Scilly. Throughout the day new PPE and work wear was issued to all staff in preparation for the busy months ahead.
Are you looking for your next career move?
We currently have vacancies for office staff in Essex and jobs for electricians across all regions - Visit our Careers page and see if there's an opportunity that may suit you.
Recent Multitech recruitment campaigns have been extremely successful with new staff joining us during January. Great to have you all on board – welcome to your new career!
Charity
During 2016 Multitech donated over £21k to various charities and in April we were pleased to receive unexpected acknowledgement from JustGiving for being among the top 1% of donors. Our nominated charities for 2017 are Diabetes UK & Alzheimer's Society.
2016 also saw various staff undertake their own fundraising for charities close to their hearts and we have just learned that Multitech electrician Dan Manning will be running the London Marathon in aid of ARC (Antenatal Results & Choices). More details will be posted next month with a sponsorship link.
What Will 2017 Hold For You?
According to the Business Insider website, 2017 could see many significant defining tech-trends including the use of carbon dioxide 'capturing' cement, an increase in construction of solar-powered offices and the creation of cooling systems for buildings that use nothing but the wind and sun.
It will be interesting to see how accurate and far-reaching their predictions are and how readily the UK construction industry adopts such technological advancements.
So if you are entering 2017 wondering if you might attend concerts via Virtual Reality and if automated, driverless cars might see petrified school children no longer being driven to school by Mums and Dads, we would like to wish you all the very best and every success for this New Year.
If you find yourself in need of temporary electrics don't hesitate to contact us. We will be happy to provide a free site survey and estimate, whether you are in London, Birmingham, the South, South East or Kent.
Call Multitech Site Services on 01371 877 060 or for Midlands projects call 01933 226 889.